In 2016 I was contacted by a company "Protis" to design a series of heat pumps. The project grew into several options: simple to use devices used to heat private homes and larger, more powerful devices for places like supermarkets.
When designing a heating system for private houses we recognized that instead of hiding the device, we could create something that people would actually enjoy having in their living room and turn it into something personal, thus saving space and making controls more convenient.
Device is covered in a material that allows users to draw or write on it with chalk or certain markers. Write memos, stick magnets, let your kids express themselves. All internal elements are isolated and the surface does not get hot. Control panel requires a key combination to be unlocked and can even be monitored by users or specialists from manufacturing company over a network, so any potential glitches will be quickly resolved.
Black material used allows users to make their device unique and never be afraid of experimenting, because it can be simply wiped away with a moist cloth or sponge. Even the action of wiping the drawings away could be used to create an interesting unique texture.
A++ is completely safe and requires a key combination to unlock the controls. Even if something did go wrong, it can be monitored by specialists from the manufacturing company and any potential glitches would be quickly resolved.
I was asked to use the color scheme of blue and dark grey due to an existing brandbook. The overall dimensions, form and the blue band follow the structure and connection points of the inside elements.
The second, more powerful option is designed to be used for large structures, like supermarkets. Since most large projects require a number of heat pumps, we designed a way to combine a number of them in a single block. Doors on the side of the device open up for easy maintenance, while also serving as a distinctive aesthetic element that helps to recognize the brand. Since performance and price are the main aspects to consider when buying these systems, I wanted to show that the focus is on performance and reliability, thus the only visual elements are also the most important functional parts. The outside case can be manufactured quite easily by sheet metal bending and cutting.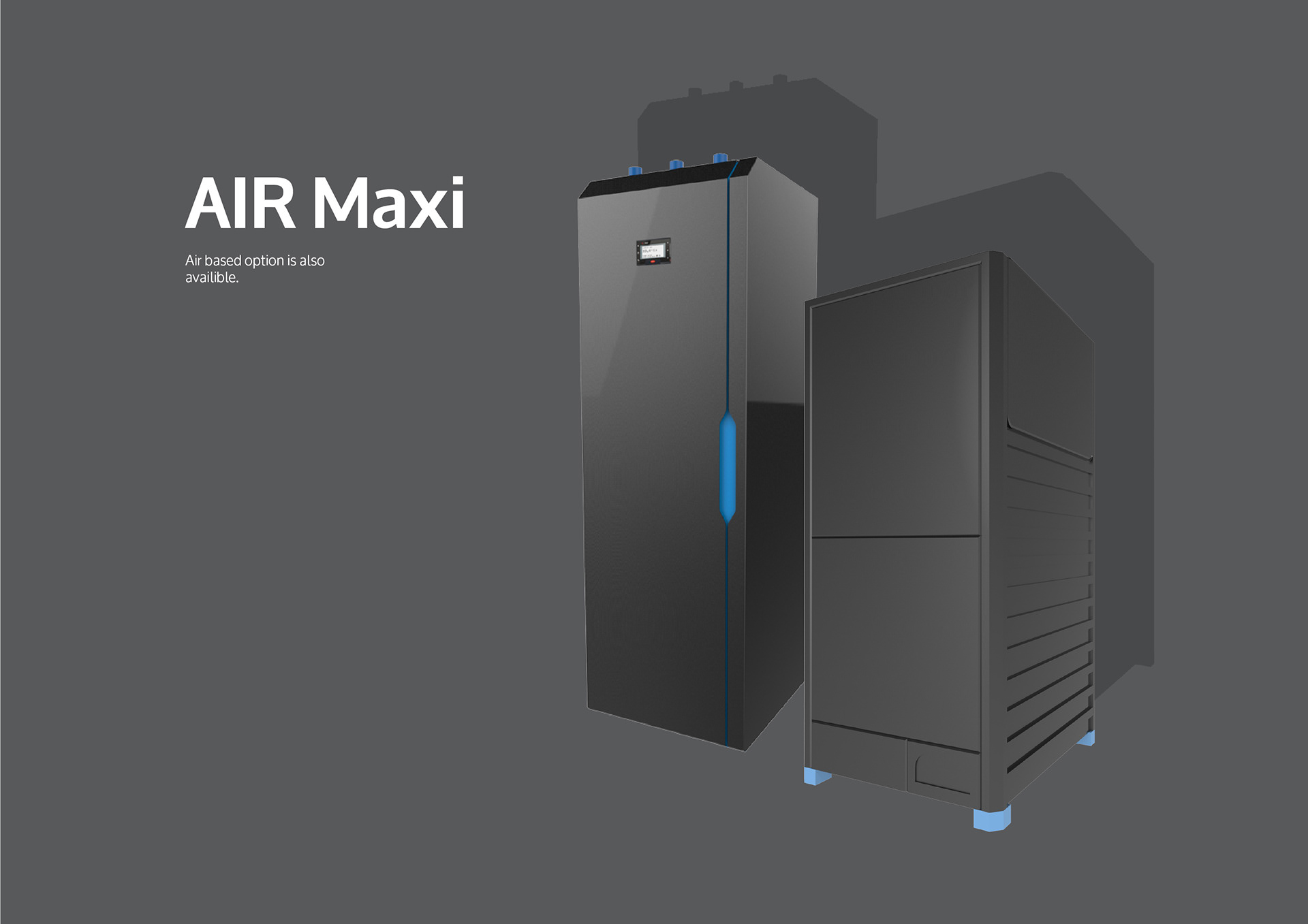 Here is a video the design process.